Chicago and Kansas City are far apart in the NFL hierarchy at the moment, with preseason meaning two very different things to these teams as a result. The approach they take will weigh into the NFL betting outlook, as our Chiefs vs. Bears picks highlight.
Two of the NFL's most famous franchises kick off their preseason schedules at a legendary venue today when the Kansas City Chiefs visit the Chicago Bears at Soldier Field.
The Chiefs and Bears approach the August schedule in very different places. The Chiefs are simply loading back up for another year in the heat of contention, with a long-established core's sights set firmly on playing deep into January.
Chicago, meanwhile, is in the early days of yet another regime, with former Colts defensive coordinator Matt Eberflus the latest to be tasked with turning around a dysfunctional NFL giant.
The contrasting standing of these two teams takes focus in our NFL picks and predictions for the Chiefs vs. Bears, with kickoff on August 13.
analysis
Kansas City quickly flipped to become favored in this spot after Andy Reid told reporters his starters would play about a quarter, as he typically likes. Is that movement justified?
Well, no, because Reid's words and actions in relation to his starters — or at least his most important starter — in the preseason have been two different things.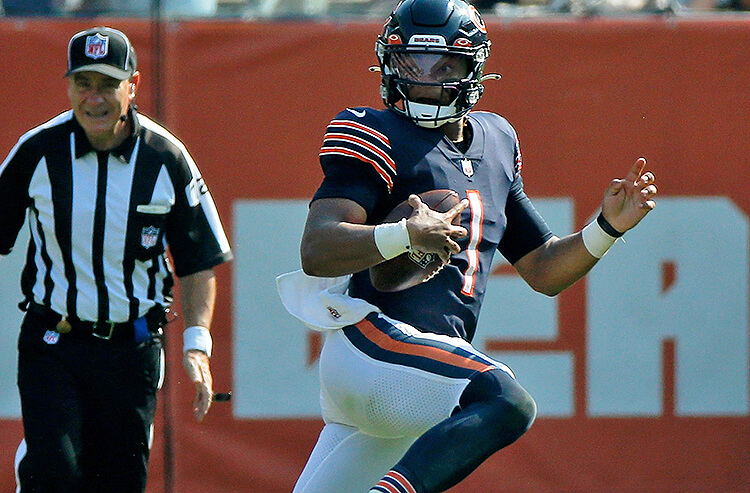 In 2021, Patrick Mahomes' standard first-quarter action to open preseason… lasted all of four plays before the Chiefs punted, and he was replaced for the team's second drive. In 2019, Mahomes completed every single pass… in his one, four-play series before he was replaced. Then there was 2018, when Reid cut loose and let Mahomes oversee two drives before he got the hook.
So, it's difficult to side with the line movement and pick Kansas City when its status as the favorite is rooted in a false premise. It's even more difficult to do so when the Chiefs will quickly turn to 37-year-old Chad Henne, then create-a-players Shane Buechele and Dustin Crum. Dustin Crum!
On the other side, the Bears may still be in the thick of evaluating whether or not Justin Fields is the answer, but their options are considerably more reliable than Kansas City's.
Even Fields' greatest skeptics, among whom I would include myself, can clearly see preseason is a spot for him to excel. His mobility, ability as a runner, and high-level arm talent can shine in the wide-open nature of August football, where communication breakdowns and missed assignments are abound on defense.
Once Fields departs, Chicago can rely on a pair of quarterbacks who are set for a decade-plus of cashing backup cheques in Trevor Siemian and Nathan Peterman. While neither are going to be pushing Fields for playing time in 2022, both are at the very least capable of operating an offense at the same level as Henne — and certainly are more well-equipped under center than Buechele and Crum.
The margins are slim, but I'll happily take the points and the superior quarterback depth in this preseason opener, and side with Chicago.
Prediction: Bears +1 (-110 at Betway)
Covers NFL betting analysis
Seahawks vs. Steelers picks Aug. 13
Cowboys vs. Broncos picks Aug. 13
Colts vs. Bills picks Aug. 13
Vikings vs. Raiders picks Aug 14
2022 NFL team previews
Regular season Week 1 odds
Over/Under analysis
When this total opened, and even after early movement, the Over appeared to be a smart play. However, the Mahomes news did enough to climb the number high enough to where I'm now looking at the Under.
Chicago has NFL-caliber talent all the way down its depth chart at quarterback, with Fields to be relieved by Siemian and Peterman. While that trio can, at the very least, operate an NFL offense, the amount of help they'll get from skill positions is in doubt.
The Bears arguably have the worst collection of pass catchers in the entire NFL. Darnell Mooney is a rock-solid vertical threat and has already established a connection with Fields, and Cole Kmet is an emerging talent at tight end.
Otherwise, the most generous thing to be said about that group is… David Moore and Byron Pringle have been serviceable fourth receivers previously? EQ St. Brown has impressed at camp but did nothing in countless opportunities in Green Bay, Velus Jones Jr. is an underwhelming rookie, and N'Keal Harry — like Moore, Pringle, and Jones Jr. — is out with an injury.
The saving grace for the Bears and that group is that they won't exactly look worse by comparison. After an offseason that saw Tyreek Hill dealt to Miami, the Chiefs aren't flush with talent around Mahomes and Travis Kelce, either. JuJu Smith-Schuster and Marquez Valdes-Scantling should be seamless fits with the starters (albeit to varying degrees of success) but otherwise, woof.
Mecole Hardman is primed for a season in which his most memorable contribution will be tricking casual fantasy football drafters into thinking you can learn how to play receiver in year four, Josh Gordon is reportedly having a poor camp, and Cornell Powell will be a 25-year-old sophomore who couldn't get off the practice squad last year.
Strictly from an entertainment standpoint, rookie second-round pick Skyy Moore will be our only saving grace — but he can't save us from what's shaping up to be an absolute rock fight.
The collection of talent on offense, on both sides, here is ugly. Combined with a number that has risen by several points over the last few days, we have reason enough to go Under.
Prediction: Under 37.5